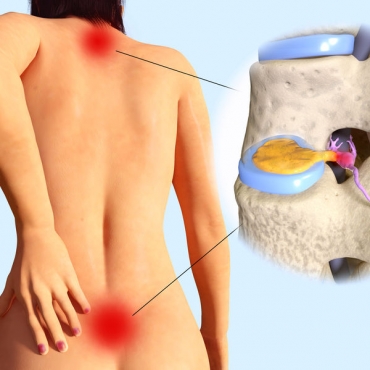 Herniated disc
Today this diagnosis is rapidly getting younger, and spinal disk herniation occurs in young people aged 20 and younger. This is due to many factors, mainly sedentary lifestyle, overweight or excessive physical activity, including failure to follow safety rules when lifting weights. The main symptom of a herniated disc with pinching of the nerve roots is strong sharp pain and limitation of movement. It should be noted that this diagnosis can only be made by the doctor on the basis of computer or magnetic resonance tomography.
There are many types of hernias, for example, the median hernias usually are not accompanied by pain, whereas the lateral and posterolateral hernias are accompanied by acute pain due to pinching of the nerve root. Treatment of hernia of the spine involves identifying and eliminating the causes that led to its formation. Osteopath can locally improve nutrition of the disc, remove swelling, relax muscles and normalize their tone. The result is significant improvement in health and final recovery.
Our center employs qualified professionals who will help to cope with the pain and consequences of all types of disk hernias.
Always with you around the world – Canadian Osteopathic Center